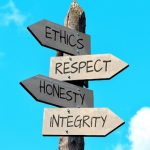 For the 4th year in a row, Professor Moran will be facilitating the Rutgers-Camden Ethics Bowl, a co-taught class with Professor Betz in the Department of Philosophy & Religion (50:730:240).  The class, Debating Ethical Issues Across Disciplines, teaches students ethical frameworks through which dilemmas can be addressed.  Students prepare scenarios that are then debated in a knock-out tournament.  The winning teams wins a $100 gift card for each team member and their names inscribed for posterity on the Ethics Bowl trophy located in the Alumni House.
Usually the event takes place in-person in the Rutgers-Camden Campus Center.  Even though the class was moved to remote instruction and all Campus Center events were cancelled, Profs Moran and Betz have forged ahead to make sure the Ethics Bowl still takes place.
The Ethics Bowl will utilize Zoom this year.  The tournament consists of preliminary rounds, a semi-final round, and a final round.  To listen in, the details of all rounds and the access information is provided below.
Prelims on Thursday, Apr 22, 11.10am-12.45pm
Zoom Room 1 (moderated by Margaret Betz): Meeting link: https://bit.ly/3uUOnNP     Password: ethics
Tune in at 11.10am for Round 1 (Team 100 vs. In Pursuit of Dispute)
Zoom Room 2 (moderated by Kimberlee Moran): Meeting link: https://bit.ly/3tmMSHU   Password: ethics
Tune in at 11.10am for Round 2 (The Great Debaters vs. Team Ferrari); and 12noon for Round 3 (Debatt-is vs. Argu-Ready)
Semi-final rounds on Tuesday, April 27, 11.10am-12.45pm
Meeting link: https://bit.ly/3geVnRp   Password: ethics
Tune in at 11.10am for Round 1 moderated by Margaret Betz; and 12noon for Round 2 moderated by Kimberlee Moran
FINAL ROUND on Thursday, April 29, 12.45-1.45pm
Team In Pursuit of Dispute vs. Team Kant Stop, Won't Stop; Moderated by Margaret Betz; Meeting Link: https://bit.ly/3dZC5wJ   Password: ethics
Pre-event Tournament Bracket: